OUR MANUACTURING
We prioritize fair treatment of workers and artisans, and aim to minimize waste and energy usage wherever possible throughout the production of each garment.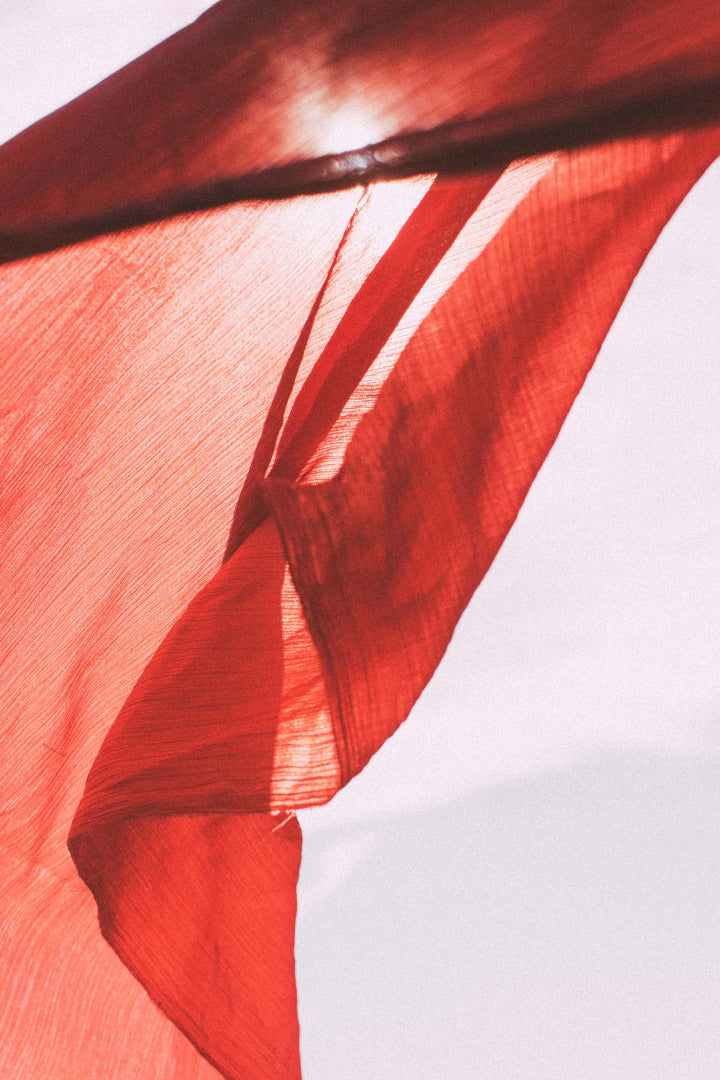 Our Goals
Our ultimate goal is a fully transparent supply chain, which is a challenging goal, but one that we move closer to each year. To achieve this, we are partnering with the product traceability platform, Retraced, to better track each product's journey and manage our supply chain.

We we prioritize fair treatment of workers and artisans by making regular visits to our manufacturing partners, ensuring they have social compliance standards, and working with Fairtrade Certified™ products and factories to ensure workers receive premium payment for their work. Furthermore, many of our factories are women-run and owned. We also aim to minimize waste and energy usage wherever possible throughout the production of each garment through innovative techniques like digital printing, to reduce shipping as much as possible, and to work with mills that are focused on using renewable energy, reducing water usage, and air emissions and reusing material by-products in a closed loop system. You can view our current list of suppliers on Open Supply Hub.
Factory Visits
We regularly conduct in-person factory visits to ensure that the people producing our clothes are paid fairly, treated respectfully, and working in safe conditions. Our team has developed close, long-term working relationships with the factories in our supply chain, and we consider each factory employee to be a member of the Mara Hoffman team. In an effort to support smaller factories, we've implemented initiatives to facilitate business growth and visibility, like sponsoring website development and delivering training programs on transparent record-keeping.
Artisan Support and Advancement
Artisan groups are often made up of women and small producers who are based in developing countries and lack direct access to globalized markets. By re-integrating artisanal products into the global market, we are able to offer better economic opportunities for marginalized groups, while expanding the audience for handcrafted, special pieces.
Fair Trade
Fair Trade Certified is a globally recognized certification that ensures sustainable working conditions and fair pay for workers, environmental protections during the manufacturing process, and transparency throughout the supply chain.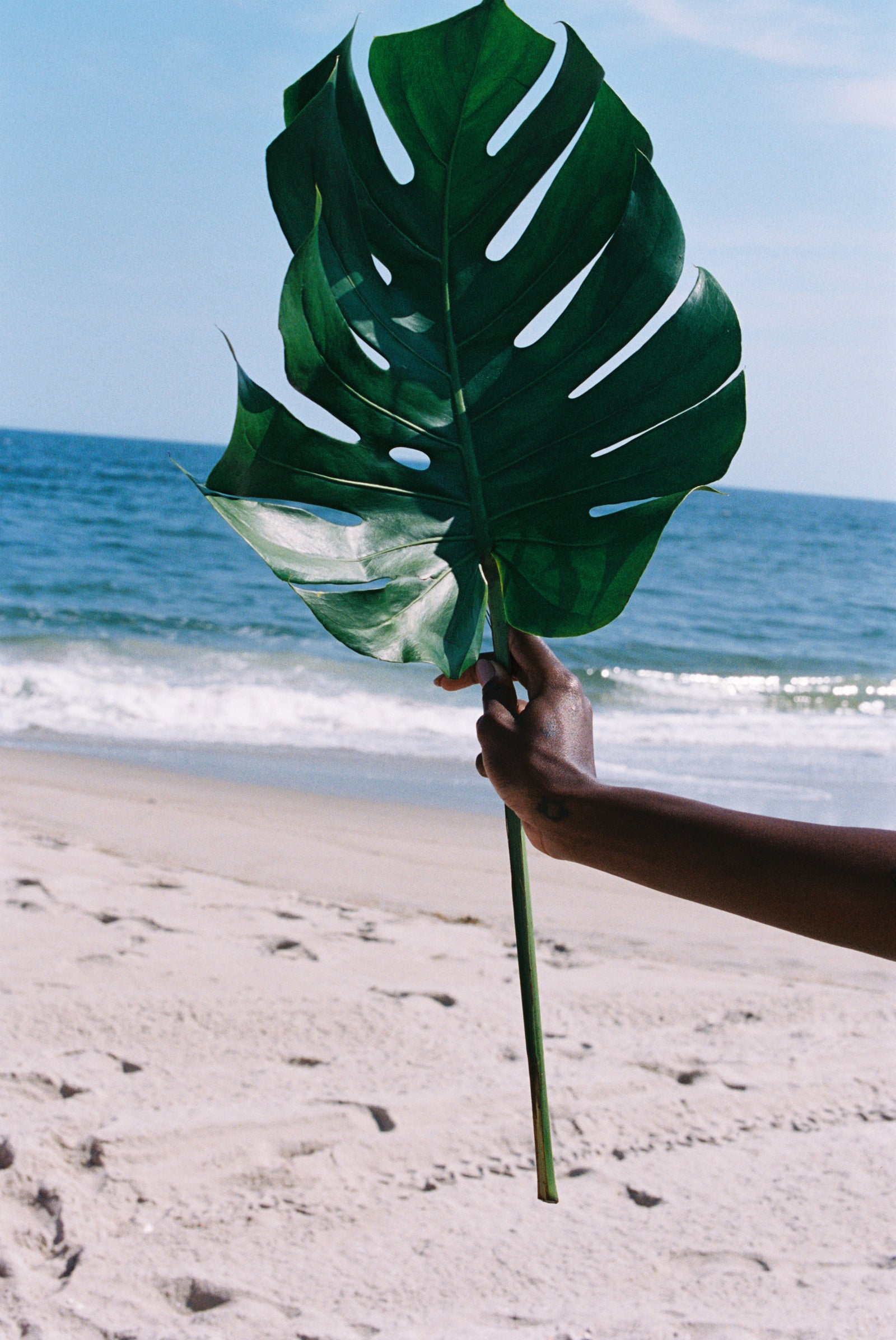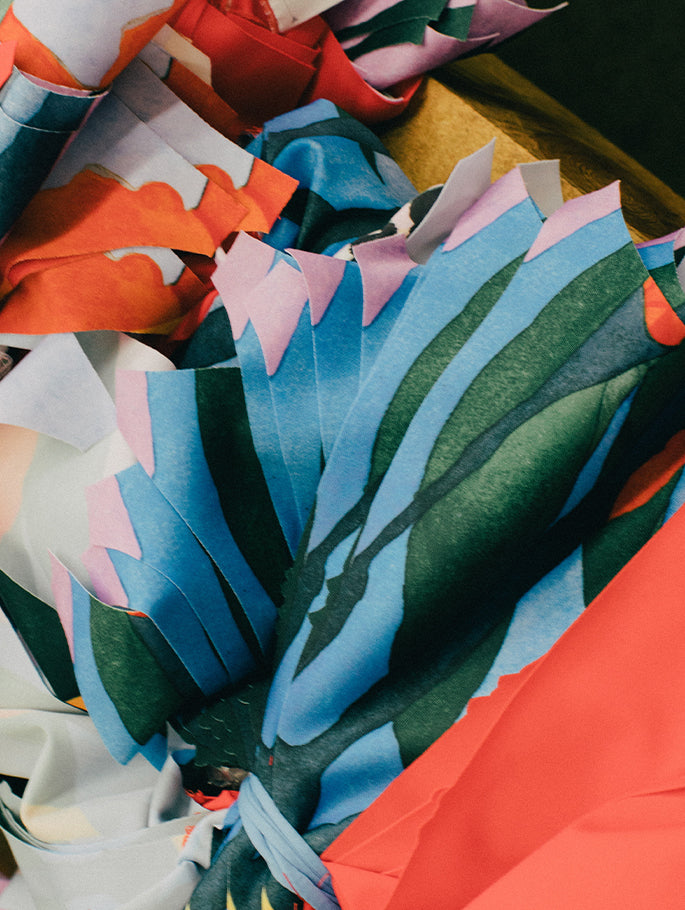 Engineered Digital Prints
We've chosen to transition the majority of our prints from traditional wet printing to digital printing to reduce fabric waste and allow the flexibility to have small runs of production. Digital printing reduces water waste because the fabric doesn't need as many wash/rinse cycles, and there are no screens or colorant baths that require cleaning. Instead of forcing garment pieces to fit into a print, we can adjust a print to fit our garment pieces, reducing our overall fabric use.
Manufactured in the USA
A large portion of our Ready to Wear collections are made in the garment district of New York City and all of our swimwear is made in Los Angeles. Our California-based swim manufacturers are longtime Mara Hoffman partners with whom we have close working and personal relationships. Domestic manufacturing fosters a healthy local economy, bolsters national employment levels, creates a smaller carbon footprint, contributes less to pollution, and ensures that employees are treated fairly under the strict USA worker protection laws.
Our Supply Chain
When deciding where to manufacture, we consider proximity to raw materials as well as each factory's individual strengths and skills. For example, we produce many of our organic cotton styles in India because that's where the majority of our organic cotton is grown, therefore decreasing the carbon footprint associated with long-distance shipping. Our partners in India are also able to offer detailed, high-quality artisanal work, which in turn means that we can offer employment and economic empowerment to women in those communities.

We source all of our materials from a network of carefully vetted suppliers that are aligned with our social and environmental standards. To support our goal of a fully transparent supply chain, we currently trace each of our fabrics through production to at least the spinner level. We achieve this by manually collecting and reviewing factory and material details, utilizing certified materials that verify material content and origin, and working directly with mills, farmers, and raw material producers when possible. Additionally, in 2023, we began to partner with Retraced, a traceability & sustainability compliance management platform that will help us collect and manage supply chain and environmental data for each of our products. You can view the complete list of suppliers we have mapped so far on Open Supply Hub. We are continually working towards greater transparency and aim to trace all of our materials back to the farm or raw material source.

Our Tier 1 Factories by Region

In general, Tier 1 factories manufacture finished goods and represent the last step in the manufacturing process. These factories can offer cutting and sewing, sewing only, or a mix of other services, depending on the size and business model of the factory. We maintain a very close relationship with all of our Tier 1 factories, listed below:
North America
• Andari, California
• Avatar, California
• Button Down, New York
• InStyle, New York
• Ocean Breeze, California
• Saitex, California
• The Knitting Mill, Texas
• Merrow Knits, Massachusetts

South America
• Factor Knitwear, Peru
• Henry Arteaga, Peru
• Lintex, Peru
• Manufacturas Jenxi, Peru
• Mundo Alpaca, Peru
• New Arcont Export, Peru
• Percy Saldana, Peru
• Peruvian Trends, Peru
• Saldana & Design, Peru
• Saturnino, Peru

Asia
• Shanghai Jiangzhen Silk Fashion Co, China
• PFFG NanChong Fashion Foundation, China
• Mega Vick Wear, India
• Shahzadi Export Pvt Ltd, India
Europe
• Irmaos Rodrigues, Portugal
• Ttantos, Portugal
• AAC Texteis, Portugal
• Lion Jeans, Portugal
• Lamosa Jeans, Portugal
• José Pinto Cardoso S.A, Portugal
• Spring Fashion & Design, Portugal